I think that I actually have my knitting machine spoken for. In exchange I will get a rigid Heddle loom and some yummy fiber. And even better? I don't have to mail it! The woman i am trading with lives a couple hours away so we will meet halfway. Woooo!
I also found a loom upstairs in the attic that I had totally forgotten about. So I brought it out and let Sara take a crack at it. Cuteness ensues...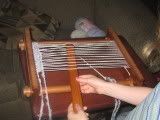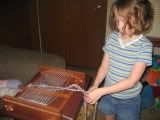 Trying it out, she had her tounge out the whole time.


Her second project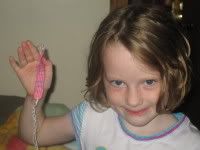 Look at the pride!

I am so glad that I found that thing.
glowingly
Dee